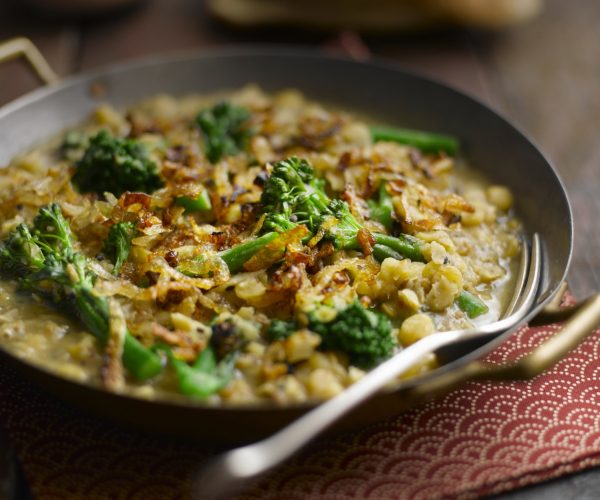 Tenderstem® broccoli & Bengali Split Pea Curry with Caramelised Shallots
Method
Make the spice mix by dry frying the all the spices together for a minute or so. As soon as you smell their aroma wafting up strongly from the pan tip them into a pestle and mortar and roughly grind. Set aside.

Puree the onion, garlic and ginger in a food processor until smooth, adding a tablespoon or so of cold water to help this process along if necessary.

Heat the oil in a large heavy based pan and gently fry the onion, garlic and ginger puree until soft and translucent. This should take around 10 minutes.

Add the ground spices and fry for a further couple of minutes before adding the split peas. Pour in enough boiling water to cover the peas by about 3cm and bring up to a simmer. Cook, uncovered, for 20 minutes stirring from time to time. You may need to add a little more water towards the end if it is looking a little dry.

Whilst the curry is cooking, caramelise the shallots by stir frying with the oil in a large frying pan or wok over a medium high heat. Cook until golden and crisp, then drain on kitchen paper. Set aside.

Stir the Tenderstem® broccoli through the curry and continue to cook for around 5-8 minutes or until it is tender but with a little bite.

Serve the curry topped with the caramelised shallots and sprinkled with the coriander. Great served with plain rice or naan bread.
More ways to cook Tenderstem®
Nutrition information for Tenderstem® broccoli is based on lab analysis of the raw product commissioned by Tenderstem® broccoli. Please note, nutrition may vary due to origin, methods of storage and preparation, and freshness.

Nutrition analysis of recipes featured on the Tenderstem® broccoli website is calculated by a registered dietitian using McCance and Widdowson's The Composition of Foods, Seventh Edition, but may vary slightly depending on the specific ingredients used. Analyses do not include optional ingredients or suggested accompaniments unless specific amounts are given. If there is a range in the amount of an ingredient, the smaller amount is used. When a recipe lists a choice of ingredients, the first is used.