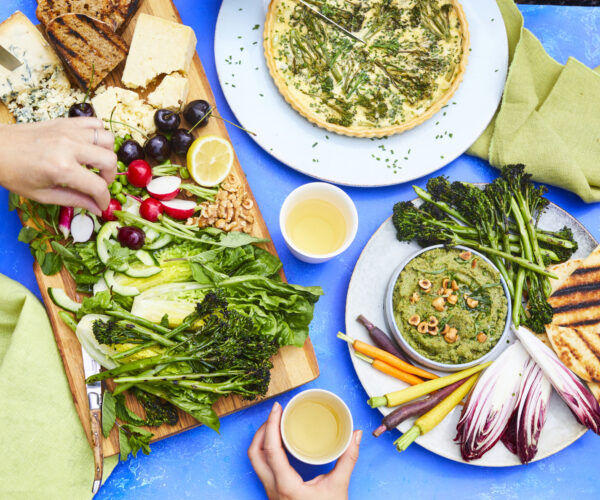 Garden salad with Tenderstem® broccoli
Method
Heat a BBQ or a griddle pan to medium high. Toss the Tenderstem® broccoli in the oil then griddle for 2-4 mins, turning halfway.

Get a medium pan of water on the boil and a bowl of ice-cold water. Cook the podded broad beans or peas for 2 mins, drain, then add to the bowl of water to cool completely.

In little piles, add all the vegetables, nuts and cherries and cheeses to a platter (keep topping it up as needed). Serve with bread, lemon wedges and olive oil if desired.
More ways to cook Tenderstem®
Nutrition information for Tenderstem® broccoli is based on lab analysis of the raw product commissioned by Tenderstem® broccoli. Please note, nutrition may vary due to origin, methods of storage and preparation, and freshness.

Nutrition analysis of recipes featured on the Tenderstem® broccoli website is calculated by a registered dietitian using McCance and Widdowson's The Composition of Foods, Seventh Edition, but may vary slightly depending on the specific ingredients used. Analyses do not include optional ingredients or suggested accompaniments unless specific amounts are given. If there is a range in the amount of an ingredient, the smaller amount is used. When a recipe lists a choice of ingredients, the first is used.