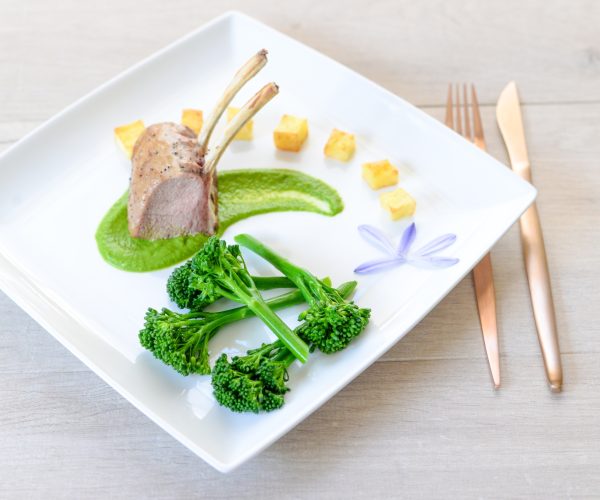 French Trimmed Lamb Cutlets with Tenderstem® broccoli Two Ways & Roasted Garlic Puree
Method
Preheat the oven to 200ºC/180 ºC/gas mark 6.

Bring a large pan of water to the boil. Slice the potatoes into 1cm pieces lengthways, then chop into 1cm cubes. Add the potatoes to the pan and par-boil for 4 minutes. Drain into a colander until completely dry. Line a baking sheet with foil. Arrange the potatoes on the tray leaving space in between each cube. Season with salt, drizzle over 1 tbsp of the oil and roast in the oven for 15 minutes, turning occasionally. After 10 minutes, add the whole garlic cloves to the tray and roast them for 10 minutes.

Meanwhile, heat a large frying pan, adding the remaining oil. Season the lamb well with salt and pepper. Sear the lamb on both sides for 2 minutes per side. Remove from the pan and place onto a baking tray. Roast alongside the potatoes for 12-15 minutes (for pink) or 15-17 minutes (for well-cooked). Remove, cover with foil and leave to rest.

Bring a second large pan of water to the boil. Drop the Tenderstem® broccoli into the boiling water and cook for 5 minutes.

Drain the Tenderstem® broccoli, and place half into a high-powdered blender. Set the other half to one side and cover with foil until later. Squeeze the flesh from the garlic cloves into the blender and discard the skin. Add the butter and whizz for 3 minutes, or until a puree forms. If you need to loosen the puree, add 1-2 tsp of water and blend again.

To serve, place 1 tbsp puree onto each plate, flatten out slightly and create a swirl with a small teaspoon. Arrange the potatoes around the puree. Chop the rack of lamb into equal pieces and place each piece onto the puree. Divide the remaining Tenderstem® broccoli onto the plates and serve immediately.
More ways to cook Tenderstem®
Nutrition information for Tenderstem® broccoli is based on lab analysis of the raw product commissioned by Tenderstem® broccoli. Please note, nutrition may vary due to origin, methods of storage and preparation, and freshness.

Nutrition analysis of recipes featured on the Tenderstem® broccoli website is calculated by a registered dietitian using McCance and Widdowson's The Composition of Foods, Seventh Edition, but may vary slightly depending on the specific ingredients used. Analyses do not include optional ingredients or suggested accompaniments unless specific amounts are given. If there is a range in the amount of an ingredient, the smaller amount is used. When a recipe lists a choice of ingredients, the first is used.